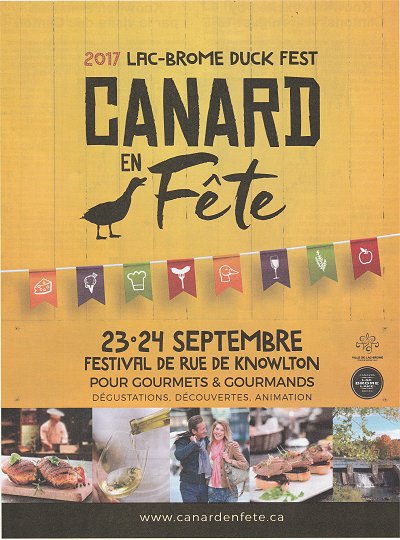 WELCOME to

BROME LAKE DUCK FESTIVAL 2015 ~ 20th edition
September 19-20 & 26-27, 2015

Information: 450-242-2870 ~ E-Mail: info@canardenfete.ca
HOME WHERE ARE WE
WHERE TO STAY WHERE TO EAT EXHIBITORS SPONSORS ACTIVITIES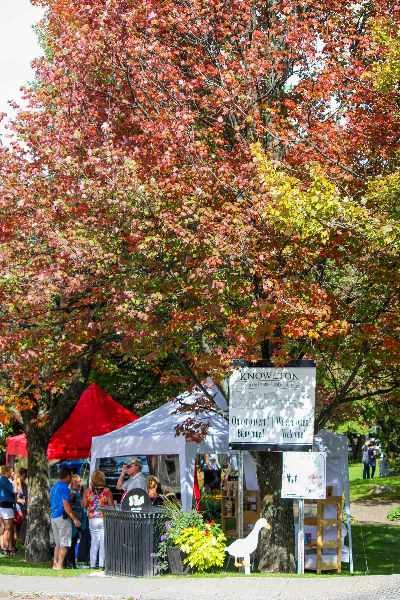 We are 20 years old this year!
Happy Birthday
Brome Lake Duck Festival!

Success feels sweet this year! It is not easy to raise a festival from its infancy to being a grown-up 20 years old. Like every parent, we've gone through growing pains and tantrums and we finally feel like we have a sophisticated adult on our hands!

This year we are going to savour every second of the festival with food, glorious food! (Of course, you will need lovely libations from our regional producers to help cleanse
your palate between courses.)
Mark down the dates in your calendars:
September 19 & 20, 26 & 27th.
Book your hotel room early, make it an event not-to-be-missed!

So many surprises, so much food, in the most charming of country settings…Please, come be our guest in Knowlton for the 20th edition of the Brome Lake Duck Festival!

--
Once again, the Brome Lake Duck Festival celebrates the pleasures of good living and great food !



---