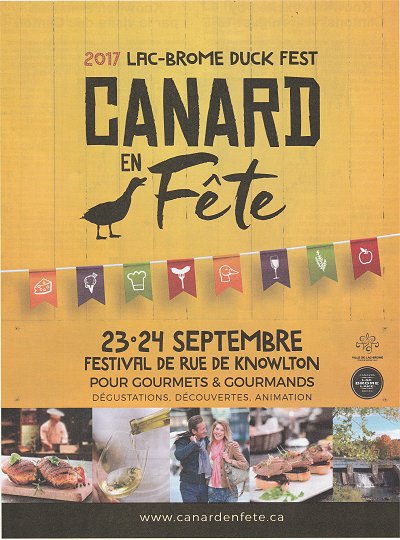 WELCOME to

BROME LAKE DUCK FESTIVAL 2014 ~ 19th edition
Information: 450-242-2870
E-Mail: info@canardenfete.ca
HOME MAP
WHERE TO STAY WHERE TO EAT EXHIBITORS SPONSORS ACTIVITIES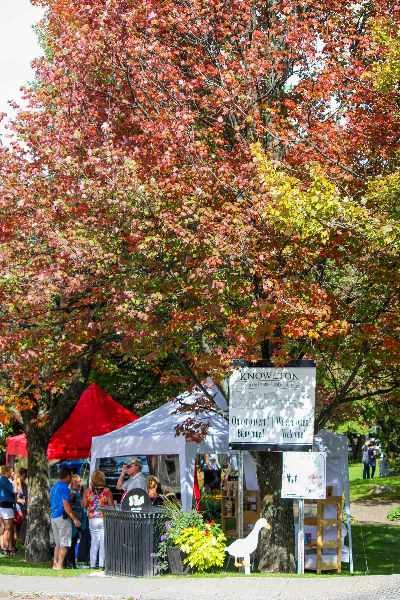 Food, Glorious Food!
The Brome Lake Duck Festival celebrates
the joy of eating and enjoying life!
The perfect way to celebrate all the joys of the harvest and our magnificent Eastern Townships is by attending the 19th annual Brome Lake Duck Festival. This year we are celebrating food and wine in all their glory! There will be so many ways to taste the exceptionally delicious Brome Lake Duck; duck confit, BBQ duck, marinated duck breasts, duck poutine or duck-dogs. Our restaurants and cafes will steal your taste-buds or visit a food-truck for crepes, bbq or cupcakes, apple crisp and apple pie. This year, we are working closely with the Brome Lake Duck Farm to bring you the evolution of the 100 years of the farm and it's implication in the community. The dates for this year's festival are September 20, 21, 27, 28 from 10am to 5pm. More than 30 exhibitors will enchant you. Sample wines, ciders and spirits from the best vineyards and distilleries in the region. Plus you will find kiosks with many duck-related products…everything from art to jewellery and more!

Of course, our celebrations wouldn't be complete without music. Jazz will permeate the streets and a little dash of country mixed in for good fun. And we haven't forgotten our smallest patrons…all kinds of children's activities to enchant and entertain!